Home > Creative Journal Tours

Join us on a creative adventure as we explore some of the most picturesque parts of the UK. Our tours are varied and include a diverse range of places such as stately homes and gardens, castles, coastlines, parklands, museums, nature reserves, and historical sites. The tours are either week long, weekend breaks or day trips staying at quality country hotels.
Creative Journal Tours focus on recording what you see and experience with sketches, words, poetry and collage into a sketchpad  journal that will capture your memories forever. While out exploring you will be inspired by what you see and a professional artist  will be there to guide you in how to put it into your special journal.
Each day we will travel to various locations, where demonstrations on how to use various drawing materials and techniques to help you in your sketching, will be done. You will see how to create a special journal that you can customize for painting, drawing and writing. We will see field sketchbooks filled with art, creative journaling ideas and tips on how to pack up a field bag for working on the go. If you like you can skip these demos and get started on your own, no pressure just relaxation! We show how to download digital images from the camera and use them to help in completing the sketches you have done, even how to resize to use on your blog if you have one.
These tours are great for anyone who wants to kindle their creative spirit! Even if you feel your artistic skills are limited don't worry! The focus will be on visiting wonderful places that excite your imagination and inspire you to capture the day in your journal. You don't have to be drawing or writing all the time, we'll visit museums to inspire you and some views you may just want to soak up.
Click on the banner links below to read complete details.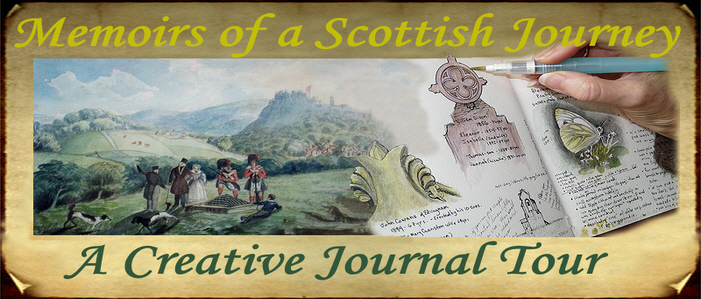 Memoirs of a Scottish Journey (4 days in Scotland's important historical places including Edinburgh, Stirling Castle and Old Town, Scone Palace, Falkland Palace, Dunfirmline Abbey and Rosslyn Chapel and much more!)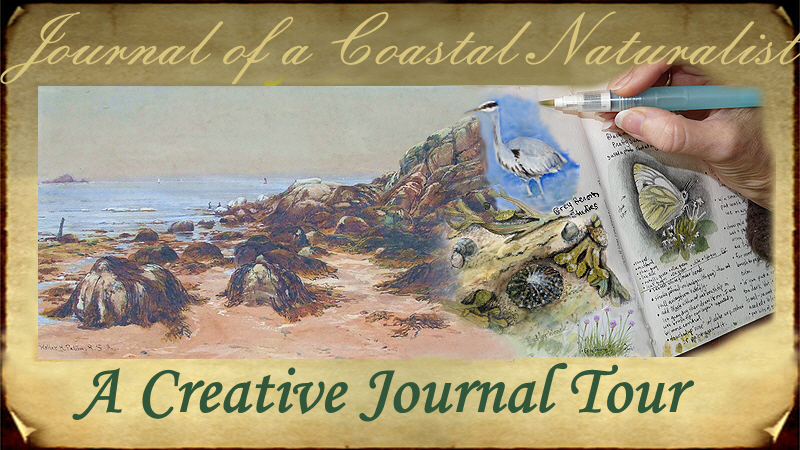 Journal of a Coastal Naturalist (1 day tour exploring the landscape and wildlife of Scotland's SE coastline in the footsteps of  John Muir. An excellent introduction to nature field sketching techniques with a focus on coastal wildlife and landscape.)
Each of our tours has a thoughtfully designed programme and is conducted by us personally to make your time with us an enlightening, enjoyable and convivial experience. Our clients value our personal commitment, enthusiasm and attention to detail, and most come back for more!
"When you stop, study and sketch, a fine image you will catch.  Study even longer, your drawing will be stronger!" Mary McAndrew
To see a list of suggested supplies go to the "Art Supplies for Travel" page for those not used to traveling with art materials or sketching while touring. To see examples of field sketching please visit these popular blog pages, travels through England in 2009 and England in 2010. There is plenty to read on her blog about art techniques and sketching on the go, see ALL posts about field sketching here: http://marymcandrew.com/category/field-sketching-painting/ You can use Creative Journaling to record anything you are inspired to capture!
____________________________________________________________________
** Please Note: If you are an experienced artist or photographer and used to working in the field we encourage you to bring your favorite supplies, just keep it light as you will want to carry them about with you. There will be time to paint, write or photograph at many of the beautiful locations we'll be visiting and you are free to work at your own pace. Some people like to work in one spot creating a more detailed study and some like to wander and make little sketches.
** If you are in an art group and would like us to organize a tour just for your group or friends, please contact us! We'd love to plan something special!
Here's a few pictures of sketching while on tour in England: