Return to: Home > Creative Vision Tours > Great Lakelanders Tour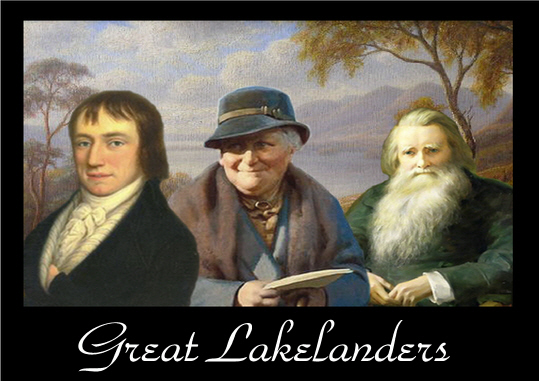 The English Lake District can rightly claim to be the most picturesque part of England, it is an area of high mountains and beautiful natural lakes which have inspired writers, poets and painters since the 18th Century and continue to draw visitors from around the world. Our Lakeland tour will include a comprehensive selection of places linked to its most celebrated Lakelanders William Wordsworth, John Ruskin and Beatrix Potter and will include walks that have some of its finest viewpoints. But we will also be discovering the works of other artists who were inspired by the Lake District along the way. Each of the tour will focus on a specific area of the Lake District and attempt to see these areas through the perspective of the those who's creative thinking was influenced greatly by the beautiful upland landscape around them and which makes this part of Britain such a very special place.
The tour will encourage those who wish to interpret their experience of the natural environment through painting, poetry or even just creative writing. We will have an artist along with years of practical experience teaching Nature Sketching and Creative Journaling  and who will be able to help advise those who feel they want to try and capture their experience on paper. Throughout the tour, the emphasis will be on encouragement not tuition, fun not work, as inspiration from the landscape of English Lakeland is a self learning exercise which we believe will develop without any form of guidance. You do not have to write or draw to enjoy this tour! It's for anyone interested in being inspired by the beauty of the Lake District. It promises you an experience of the English Lake District which will open the artistic eye so often forgotten in adulthood and make for both an enjoyable and educational experience you will remember for many years to come.
Picking up points for the coach to the Lake District will be from either Edinburgh, Newcastle-Upon-Tyne or Carlisle, all of which are situated on the main transport networks.
Click on the bars below for descriptions of each day with photographs, links and more information!
We know it will inspire you so please bring your camera, sketchbook or journal if you like, and let your creativity bloom just like the daffodils of Wordsworth!
At Old School Tours we don't believe in advertising what seems a 'low price' but doesn't include many things we believe to be standard, such as entrance fees, dinners, breakfasts and quality hotels and B+B's. Each day's detail page shows the highlights of where we'll be going and below you can find the price and what it includes. We look forward to having you on our adventure and guarantee a quality touring experience!
This full 9 Day luxury touring holiday is only £ 1104 GBP *  and includes:
8 full English Breakfasts.
8 Hot Dinners either at a fine pub, Hotel or Restaurant.
8 nights accommodations at hotels
Entrance fees each day to listed attractions we visit.
Full 9 days fare on air conditioned/heated luxury coach.
Two personal, educated tour guides filled with enthusiasm and good spirit, ready to make sure you are taken care of and have a good time!
What it doesn't include:
Lunches
Alcoholic beverages
Personal spending, shopping, tipping
Fares before and after the tour, to get you to and from home.
*Go here to convert tour costs to your currency: XE The World's Favorite Currency Converter Site
*Prices are at the time of publication and may vary slightly, just contact us to inquire!
*Prices are based on two people sharing (single rooms available at a supplement)
For more information see: "Making a Reservation" and "Terms and Conditions".