Day Trips and Short Breaks > Country Shows

Who doesn't love going to a traditional English country show? With lots of farm animals, horse show competitions, poultry and eggs, dog shows, cattle, alpacas and sheep all vying for first place ribbons. Tents showcasing traditional crafts and foods, flowers and produce and modern day vendors bringing their wares to sell. Enjoy an ice cream or other treats galore as you walk about the fun filled fair!
We have arranged a wonderful day out to a variety of shows this season; where you can leave your car behind and ride in a relaxing coach. Bring a group or meet some new friends along the way! Some shows include a stop at a scenic location or other local place of interest (like a steam train ride or lake cruise!).  Email us as soon as possible to let us know your interested, we can't wait to take you!
Starting points and fares for these day excursions may sometimes vary from those shown, so it is important that you discuss the tour arrangements with Old School Tours before requesting a reservation. Click on pictures to see enlarged poster.
The following are shows that we visited in 2011, check back to see what we have for 2012!

Wensleydale Agricultural Show (includes steam train journey):  27th August 2011 *Now Ended*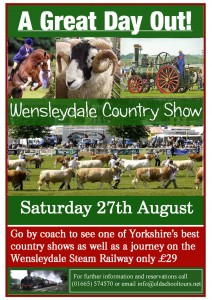 Westmorland County Show (includes a cruise on Lake Windermere):  Thursday 8th September 2011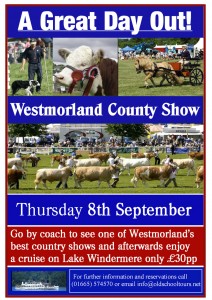 Melrose Scottish Pipe Band Championship & Highland Dance Contest Saturday 20th August  *Now Ended*