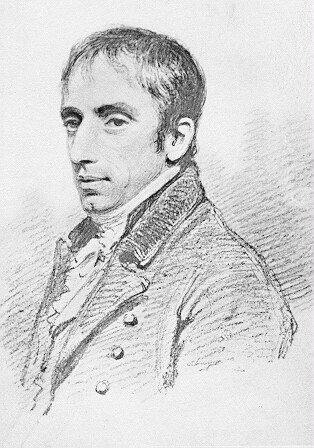 Wordsworth was born on 7 April, 1770 in Cockermouth, Cumberland near Lakeland, the son of a local estate manager. His feelings towards the beautiful landscape of his home had a profound affect on the young Wordsworth and gave him a love of nature which he expressed in poetry and prose. Having gone through the personal turmoil of losing both his mother and father during his boyhood and separated from his sister Dorothy and brothers during his education, Wordsworth took long lonely walks in the countryside around his boarding school at Hawkshead and developed a great affection with the natural world that was to inspire his poetry throughout his lifetime.
He continued his studies at Cambridge University and made his debut as a writer in 1787, when he published a sonnet in "The European Magazine". In that same year he entered St. John's College, Cambridge, from where he took his B.A. in 1791. During a summer vacation in 1790 Wordsworth went on a walking tour in Europe which he met his great friend and fellow poet Samuel Taylor Coleridge (1772-1834) whose work was often influenced by contemporary ideas about science and philosophy and was to have a major influence on Wordsworth's work.
The impoverished Wordsworth's financial situation became better in 1795 when he received a legacy and was able to settle at Racedown, Dorset, with his sister Dorothy. Encouraged by his friend Coleridge and stimulated by the close contact with nature, Wordsworth composed his first masterwork, Lyrical Ballads, the preface of which is considered a central work of Romantic literary theory. In it, Wordsworth discusses what he sees as the elements of a new type of poetry, one based on the "real language of men" and which avoids the poetic diction of much eighteenth-century poetry. Wordsworth gives his famous definition of poetry as "the spontaneous overflow of powerful feelings: it takes its origin from emotion recollected in tranquility". About 1798 he started to write a large and philosophical autobiographical poem, completed in 1805, and published posthumously in 1850 under the title "The Prelude". Wordsworth spent the winter of 1798-99 with his sister and Coleridge in Germany, where he wrote several poems, including the enigmatic 'Lucy' poems.
After a walking tour of the Lake District with Coleridge he made the decision to return to his Lakeland home and moved to Dove Cottage near Ambleside with his sister Dorothy and in 1802 married Mary Hutchinson. With his fellow poets Robert Souhey and Coleridge, the Rydal area became a basis for a great deal of creative writing and the friends were often described collectively as simply "The Lake Poets".  Throughout this period, many of his poems revolve around themes of death, endurance, separation and grief. Wordsworth's central works were produced between 1797 and 1808. His poems written during middle and late years have not gained similar critical approval. Wordsworth's Grasmere period ended in 1813.  He moved to the cottage of Rydal Mount, Rydal where he spent the rest of his life and died on April 23, 1850.
More links about Wordsworth:
Visit our blog-post about his poem "I Wandered Lonely as a Cloud" or better known as "The Daffodils".

William Wordsworth Read more about this famous author and see more photos.
Wikipedia link with excellent information about the author and his famous poem.